Posted by Taryn on 2020 Apr 6th
So, you've decided you would like to paddle this season. With so many different types of kayaks out there, how do you choose?
There are some questions you can ask yourself to get things narrowed down a bit.
First, where will you be paddling? Ocean paddling will require a different style of boat than if your paddling lakes and small rivers.
Do you want a sit inside?
Is this strictly for recreation or are you looking to grow your skill set and paddle in more challenging situations?
Will you be tripping and, if so, what kind of storage are you looking for?
In this post I'll discuss how the answers to some of these questions will help guide your choices. Let's start with where you want to paddle. Most other questions will get answered as we go.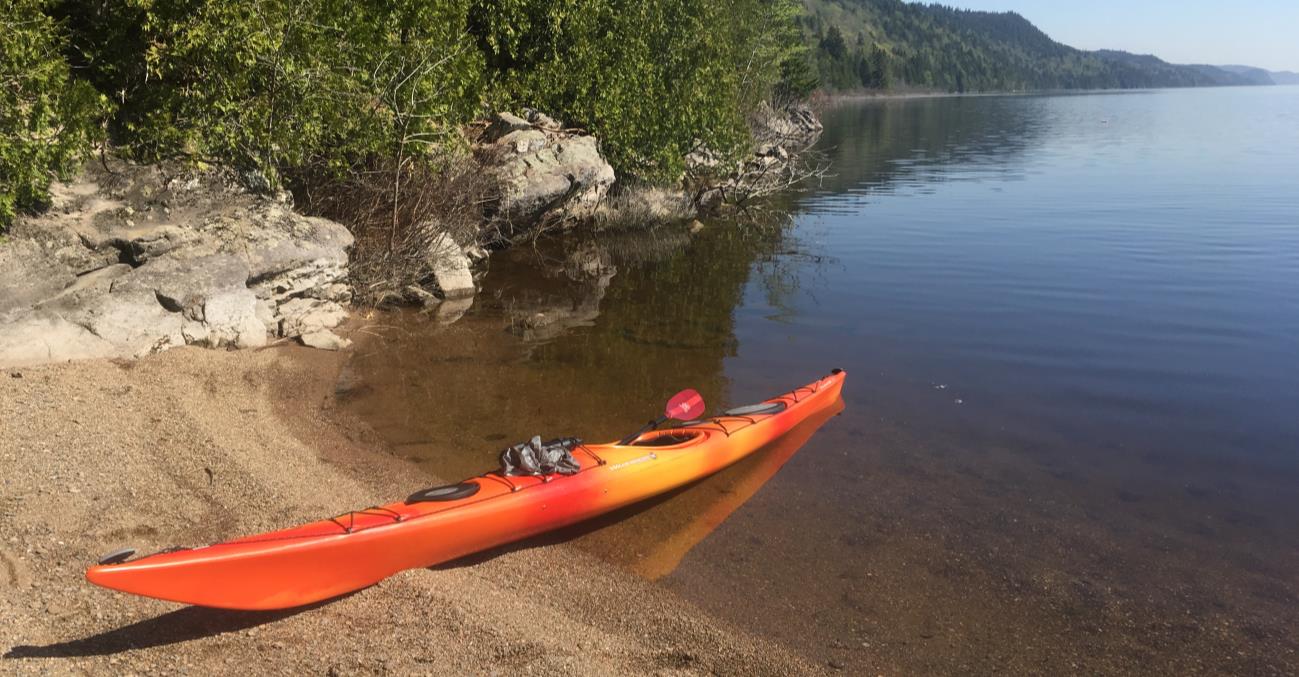 LAKES
Depending on the size of the lake and the wind and weather conditions, sit-on-tops and recreational sit-in kayaks are a great choice for lakes. I'm not talking Grand Lake here, since the wind would be a major consideration, but for smaller, calmer lakes, recreational boats in the 9-12' range perform well. Sit-on-tops are fair weather boats for the most part so if you're expecting to paddle in any other type of weather, I would look at a sit-inside. Sit-inside kayaks also offer more control since your hips are engaged with the boat allowing some control with the body and not just the paddle. Longer boats track better or, in other words go straight with more ease, so if paddling away from shore or looking to paddle in windy situations, a 12' boat may be a better choice than a 9'.
RIVERS
Since white water paddling is a category all its own, we'll leave that for another post and just look a slow-moving water for the purpose of this post. For small, slow moving rivers, a shorter kayak equipped with a rudder or a skeg is a great choice. Shorter boats have great maneuverability and a skeg or rudder help with tracking when needed. It should be noted that this type of boat is very versatile and could be used at the lake as well. The addition of a rudder or skeg offers more control in the wind. The Axis 12.0 by Dagger is a great example.
LARGE RIVERS AND LARGE LAKES
New Brunswick has so much to offer with so many different types of river and water systems. For this category, I would consider a boat length of 14-16'. This length of kayak tracks well and can handle current and variable weather conditions. This is the type of kayak most appropriate for places like Grand Lake, the Kennebecasis or the Saint John River. A 14 or 14.5' kayak tends to be the most versatile since it's still short enough to be used in smaller bodies of water like the ones discussed above. The Tsunami 14 or 14.5 by Wilderness Systems is a great one from this category. It has great stability and a lot of extra features to make your paddling adventures more enjoyable. If coastal paddling or tripping is on the radar at all, then you may consider going longer. 16-16.5' would be a great length to consider. Boats in this category are often equipped with a rudder or a skeg. For those that aren't, the option to add a rudder is typically available. Rudders or skegs make these larger bodies of water more manageable, especially for those longer paddling trips.
COASTS
Longer boats with rudders or skegs are the safest choice for coastal waters. Tides, wind, waves and current should all be considered when choosing a sea kayak. These boats are considered touring kayaks and are typically 16' or longer. They track very well and are designed for longer trips and open water. There is plenty of storage for gear and equipment and these boats can handle the loads associated with multi-day trips.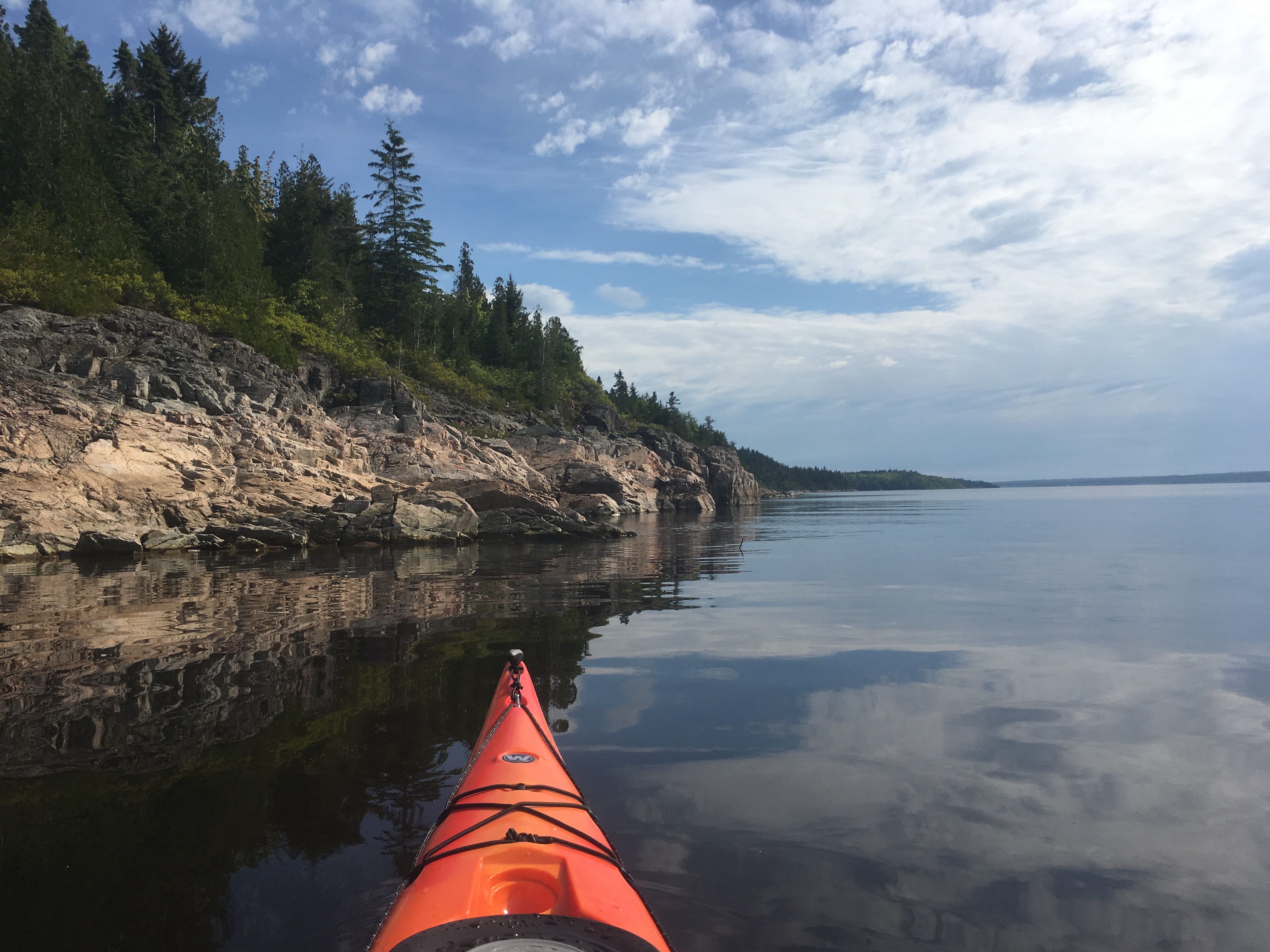 So, you know where you want to paddle, and you have narrowed down the length and type of boat you want. Now it's time to consider some of the features these boats offer.
First let's look at width. Many of these boats offer two sizes like with the Tsunami 14 or 14.5. The 14 is not only a little shorter, its narrower, a great option for smaller paddlers. Its larger counterpart offers more width and therefore more stability for larger framed paddlers. Take the time to sit in the different sizes to see which feels more comfortable.
Consider your needs in terms of storage. It was mentioned that touring boats offer plenty of storage solutions, but the shorter kayaks also have several options. Some have a hatch or two. Others have consoles, bungees, mesh or deck bags. Consider the seating as well. Recreational kayaks may only offer simple seating options whereas some others have more comfortable selections that have several points of adjustability.
For the most part, these boats will be plastic but if you're looking at touring kayaks, you may have more choice in terms of materials. Fiberglass boats, for example, shave a lot of weight and have less drag in the water but they do come at a premium price.
IN SUMMARY
There are a lot of kayaks on the market today but by working through a few key questions the choices can be narrowed greatly. As you can see the length of the boat is a great place to start and its important to remember that it's the type of paddling you want to do that guides this decision. We love talking paddling at the shop. Don't hesitate to call or stop by River and Trail with any questions. We'd love to help get you out on the water.