Posted by Kirsten on 2020 Mar 27th
Your dog is the best hiking buddy you could have, but there are things to consider to ensure that is always the case. When I adopted my dog, he was already over a year and it took some time for us to figure each other out and understand what hiking we could do together. The same can be said for a puppy.
KNOW YOUR DOG
Before you do any hike - of any length - you must know your dog. I'm talking about everything from their physical abilities to how they react to squirrels. This is important regardless of where you are hiking. When I am hiking with my dog, I am constantly predicting what his next move is. This way, I can quickly divert his attention or bring him in close to me to avoid anything from going array. Trust me when I say, you don't want to learn the hard way what your dog will do if he sees a porcupine. But on that note, have your vet's emergency contact number handy just in case.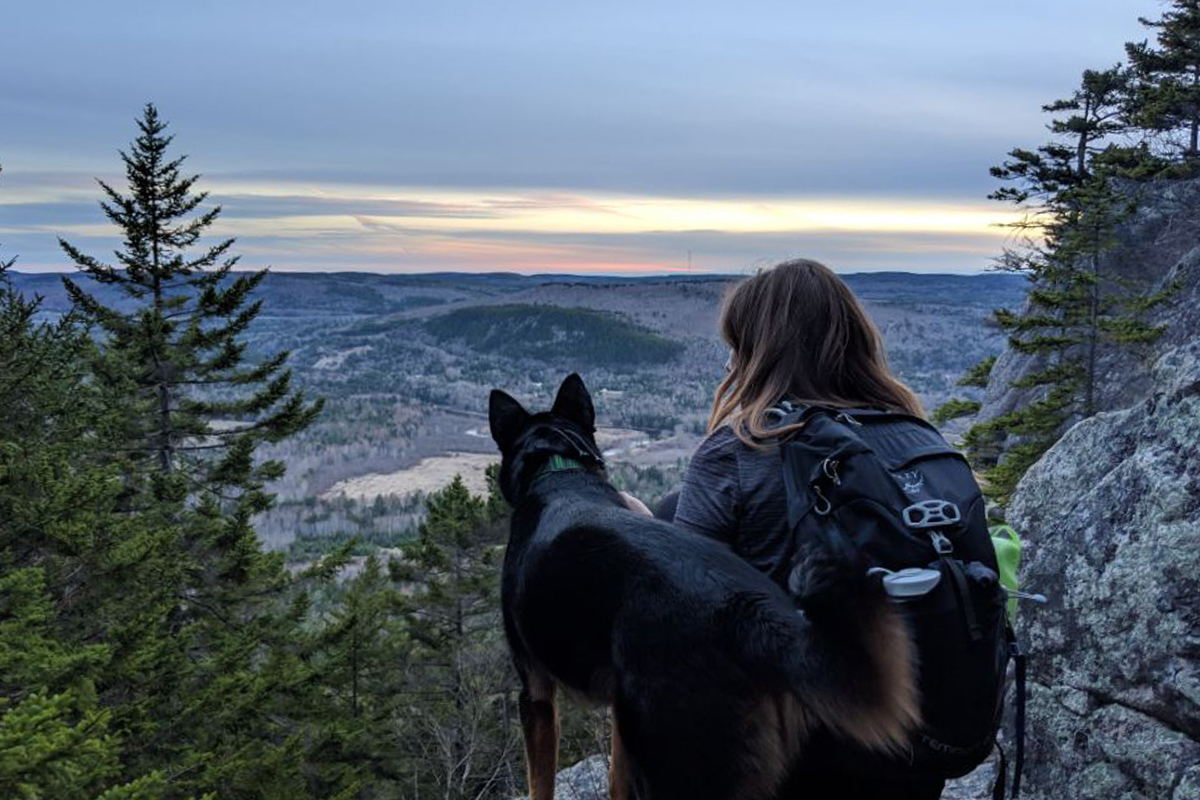 Kirsten and her dog, Odis, during a hike in Welsford.
KNOW THE TRAIL
Living in New Brunswick, we have access to some of the best trails - and we want to keep it that way. Before you and your pup head out for a hike, research whether or not it is dog-friendly and whether or not they must be leashed. If it is a dog-friendly trail, it's a good idea to know what wildlife is common to the area. I will refer you back to my previous point about the porcupine.
Once you have determined that you and your dog can hike the trail, look into what you might expect for the trail.
How long is the hike and what is the difficulty level? Just because it is dog-friendly doesn't mean it is a good trail for your own dog.
Is it a shared trail? Is it is also used for ATVs and/or Bikers?
Is it near a main road? This is key in the event you anticipate your dog chasing a squirrel, or perhaps your dog is reactive to vehicles. If you are near a road, keeping your dog on leash is best for everyone's safety.
Does the trail cut through any residential areas? These would be areas you'd want to keep your dog closer to you so they aren't running onto someone's property without invitation.
Are there cliffs or sketchy sections that might put your furry best friend at risk?
Is it a popular, and possibly busy trail? Personally, I find it more enjoyable to hike less traveled trails, but to each their own!
Are there any water sources along the trail? If there are, is the water safe for your dog to drink?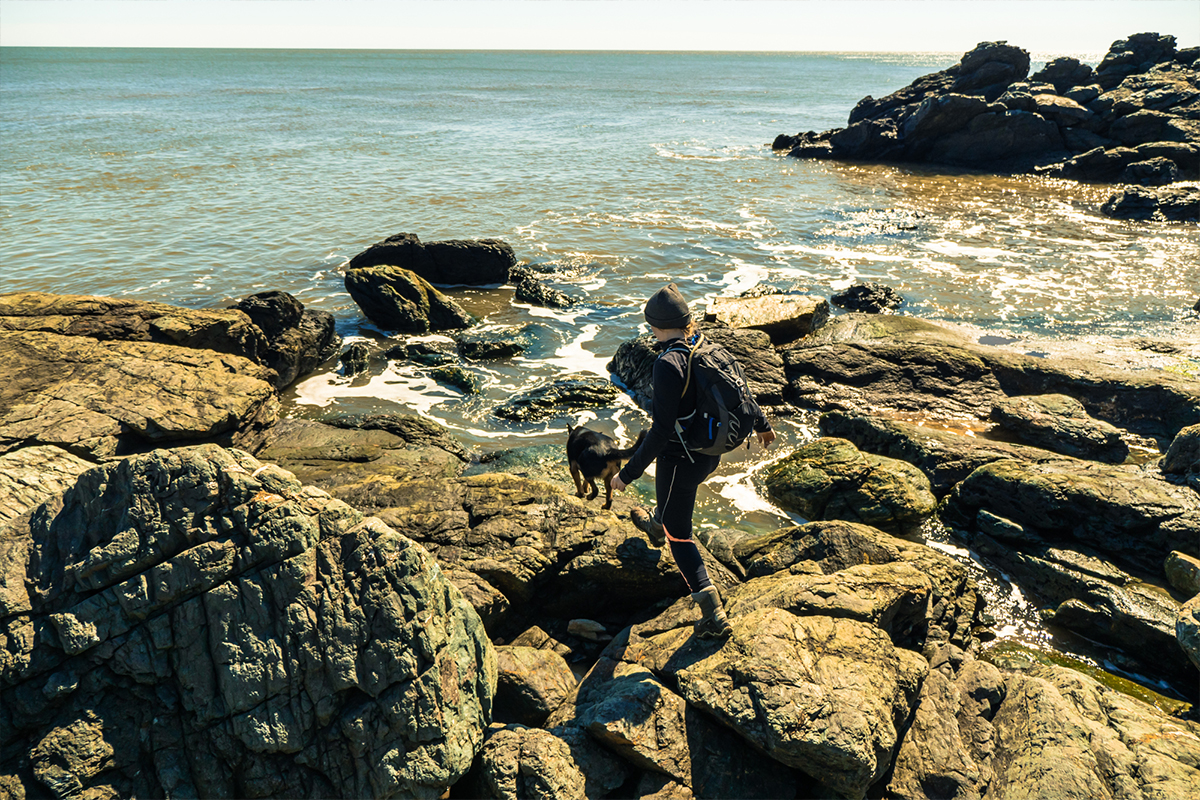 Kirsten and her dog during a hike of Split Rock Trail in Lorneville.
TRAIL ETIQUETTE WITH YOUR DOG
A good rule of thumb when hiking with your dog is to always yield to others. Whether that is other hikers, bikers, etc. Until I can communicate with this person and learn about their comfort level with dogs, I assume they don't want to interact with my dog. That being said, 9 times out of 10, the people I meet up on a trail are excited and happy to meet a friendly pup. Essentially, it comes down to having awareness of your dog and others.

Whether you are hiking with your four-legged friend or not, it is always important to respect the trail and pack out what you pack in. This includes your dog's poop. I have finished many hikes with a bag of dog poop hanging from my pack. It's just part of life with a dog. If picking up the poop is not an option, follow the guidelines from this article and "walk 70 paces away from any paths, campsites and water sources, bury the pet waste in a hole at least 15cm (6in.) deep and disguise the spot when you're finished."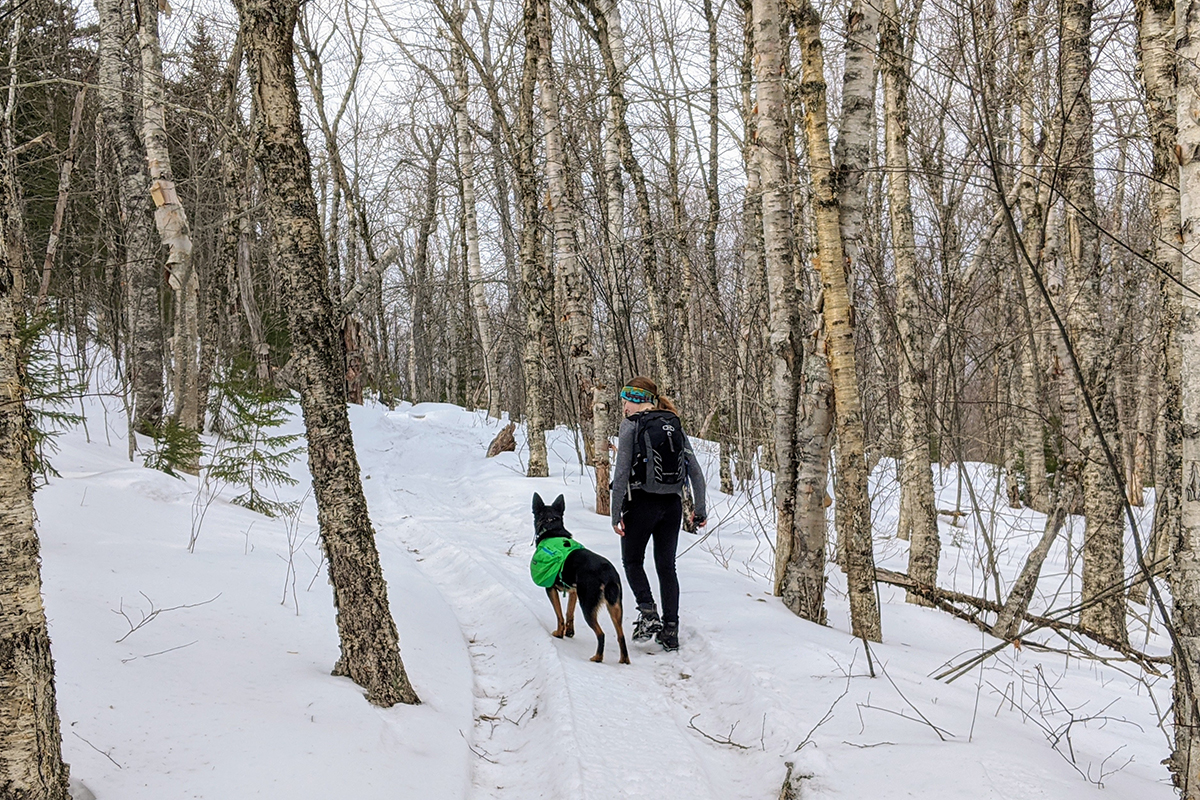 Kirsten and her dog hiking to Turtle Mountain near Grand Bay-Westfield.
IN SUMMARY
Respect the trail, respect others and have fun exploring new trails with your dog! Also, don't forget to bring lots of treats to reward your dog for being an awesome hiking buddy. I keep his treats in the hip pockets of my Osprey Tempest 20 so they are handy throughout the hike. If you are looking for some advice specific to doing a multi-day hike with your four-legged friend, check out this post.