Posted by Chrissy on 2020 Apr 6th
Will your next adventure be out camping with family and friends or will you be carrying your gear on a backpacking adventure? Are you a fan of summertime campouts or are you in the backcountry throughout the entire year?
When it comes to choosing a sleeping bag there are some key things to consider. For example, camping sleeping bags tend to offer more room and are bulkier in size. They are also more cost effective which can be especially important if you are outfitting your whole family. Backpacking sleeping bags tend to be light and have a more tailored fit. No matter what the adventure entails there are some great options to keep you warm and cozy.
The following guidelines will highlight some of the key features you'll want to look out for when you're in the market for a new sleeping bag:
Shape
Insulation Type
Temperature Rating
Features
Sleeping Bag Accessories
SHAPE
Sleeping bags come in various shapes – some are roomy while others wrap you up tight. The general rule of thumb is that the more tailored the sleeping bag, the more efficient your bag will be at heating up the space around your body.
Rectangular
Rectangular sleeping bags provide plenty of space for both your arms and legs to stretch out in. They can be completely unzipped and used like a blanket. A rectangular sleeping bag is usually inexpensive, bulkier to pack and are typically used for front-country camping. They are often less thermally efficient and are best suited for summer temperatures.
Semi-rectangular
Also known as "barrel" shaped, these sleeping bags offer a balance between warmth and roominess to accommodate a variety of body types and sleeping positions. They are cut a bit closer than rectangular bags and offer more thermal efficiency. Some come with a hood for extra warmth. Barrel sleeping bags offer moderate room, are a good option for both front-country and backcountry camping and are suited up to 3-season use.
Mummy
This style of sleeping bag has a snug fit. Mummy sleeping bags have contoured shapes, often with hoods and straps to attach to your sleeping pads. They are very light and compact and are a great option for 3-season use. If you want to save space and weight in your pack, this would be the type of bag to consider. Mummy bags are available in both down and synthetic and there are hybrids that mix the two. This type of bag is suitable for both front-country camping or backpacking use.
Double bags
Double sleeping bags are designed to fit two. You will find that double bags will come in roomy rectangular versions or ultralight mummy cut double bags suited for lightweight backpackers. If you and your partner like to snuggle up, you may want to consider rectangular bags designed for zipping together or using on their own (the bags need to be the same model and brand).
Women Specific
These bags are designed with women in mind. They have a more-narrow shape at the shoulders and wider hips compared to unisex bags. Most have additional insulation in the torso and foot-box.
INSULATION TYPE
Sleeping bags are insulated with either Down or Synthetic insulation. There are a few characteristics of each that you will want to consider.
Down Insulation
Made from down found under the feathers of geese or ducks
Light weight
Higher price point
Compresses small for packing
Retains more loft and warmth over the years
Performs best in cold, dry weather
Loses warmth when wet; can offer a water-resistant treatment to protect the bag in damp conditions
Requires specialized washing
Down insulated bags come with a number association with the amount of fill, labelled "down fill-power". A higher fill-power will provide more warmth for the same weight. When choosing a Down sleeping bag, it is also good to look for one with RDS (Responsible Down Standard) or TDS (Traceable Down Standard).
Synthetic Insulation
Made from polyester
More affordable
Dries fast
Heavier than down
Less compressible
Maintains warmth when wet
Easy to care for
Loses its "fluffiness" sooner
TEMPERATURE RATING
A sleeping bag's temperature rating indicates the lowest temperature that the bag is intended to keep you warm. Such ratings assume that you are using a sleeping pad for insulation. Remember, that temperature ratings are useful when comparing sleeping bags but there are a lot of other factors that play into how warm you will sleep (such as hydration, fatigue, humidity, dampness, wind, etc.).
Sleeping bag temperature ratings are usually characterized by season:
Summer: (0°C and up)
Three-season: (-15°C to -1°C)
Winter: (-15°C and below)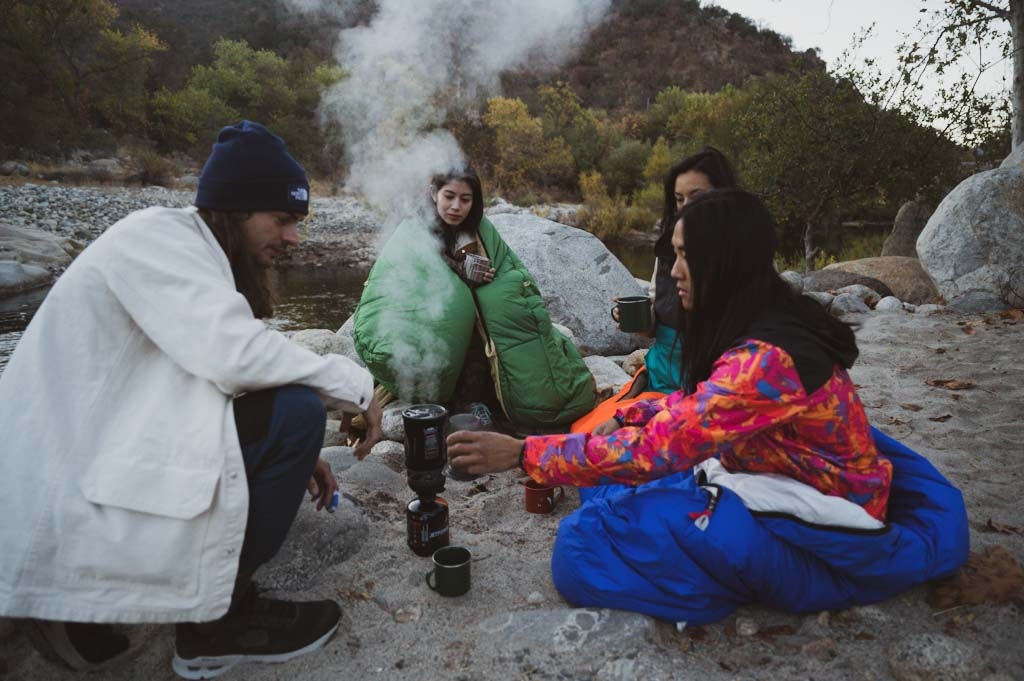 FEATURES
You may want to consider a sleeping bag that offers more features. Here are some features that you can be on the look-out for.
Hood: Does your head get cold during the night? A snug-fitting hood can make all of the difference in keeping you warm at night. You are more likely to find hoods on sleeping bags with lower temperature ratings.
Sleeping pad sleeves: Some sleeping bags come with a sleeve on the bottom to slide your sleeping pad into. These bags may have less insulation on the bottom for this reason. Sleeping bags with pad sleeves are lighter and more compressible.
Sleeping pad straps: Bags with straps means you can attach your sleeping bag to your pad so that you won't roll off.
Pillow pocket: There are sleeping bags with sewn in pouches to hold a small camping pillow.
Zipper features: Some bags come with more than one zipper slider, making it easier to adjust for ventilation.
Stash pocket: Sleeping bags that offer a zippered spot for small accessories, such as your headlight or watch.
Sleeping bag shells: A bag that's outer shell is made with a durable water repellent (DWR) to protect your sleeping bag from dampness.
SLEEPING BAG ACCESSORIES
Once you have your sleeping bag picked out, there are some accessories out there that you may want to add to your sleeping system.
Stuff Sacks/Compression Sack: A stuff sack or compression sack is a bag intended to get your bag down to a smaller size and take up less space in your vehicle or pack.
Sleeping Bag Liners: A sleeping bag liner is bought separately for the purpose of adding extra warmth to your bag when needed and can also help to keep your sleeping bag clean inside.
Storage Sack: A storage sack will help keep the integrity of your bag (it's insulation) for longer. A lot of bags will come with a large mesh or cotton storage sack for long-term storage versus having your bag stored permanently stuffed inside of a stuff sack.
IN SUMMARY
As with any outdoor gear, it all comes down to your intended use and what works best for you. If you don't yet have a sleeping bag, start with one that you can maximize its use and then look to specialized and trip specific sleeping bags later. Happy Camping!