Posted by Kirsten on 2022 May 8th
This is written from the perspective of a new mom, with a 1 year old.
When I was pregnant, I shared with a friend that I envisioned hiking often with my baby, while he napped. I followed up by saying I was probably naive to be planning for that but he replied with the best advice: "If you want to do it, just do it. Don't let other people's lifestyles or plans dictate yours." That advice extends beyond parenthood but it was key for me continuing my hiking habit after baby.
As a result, the majority of my son's naps have been outside - during hikes. Beyond that, we spend a lot of time outside and both find calmness with the fresh air. Perhaps this won't work for you and your kid - we are all unique - but I encourage you to give it a go. There have been countless times when it felt impossible to get outside and I questioned if it would be worth the effort.
It was worth it 99.98% of the time. If you want to hike but are hesitant, I've included some tips in this post to get you and your little one outside.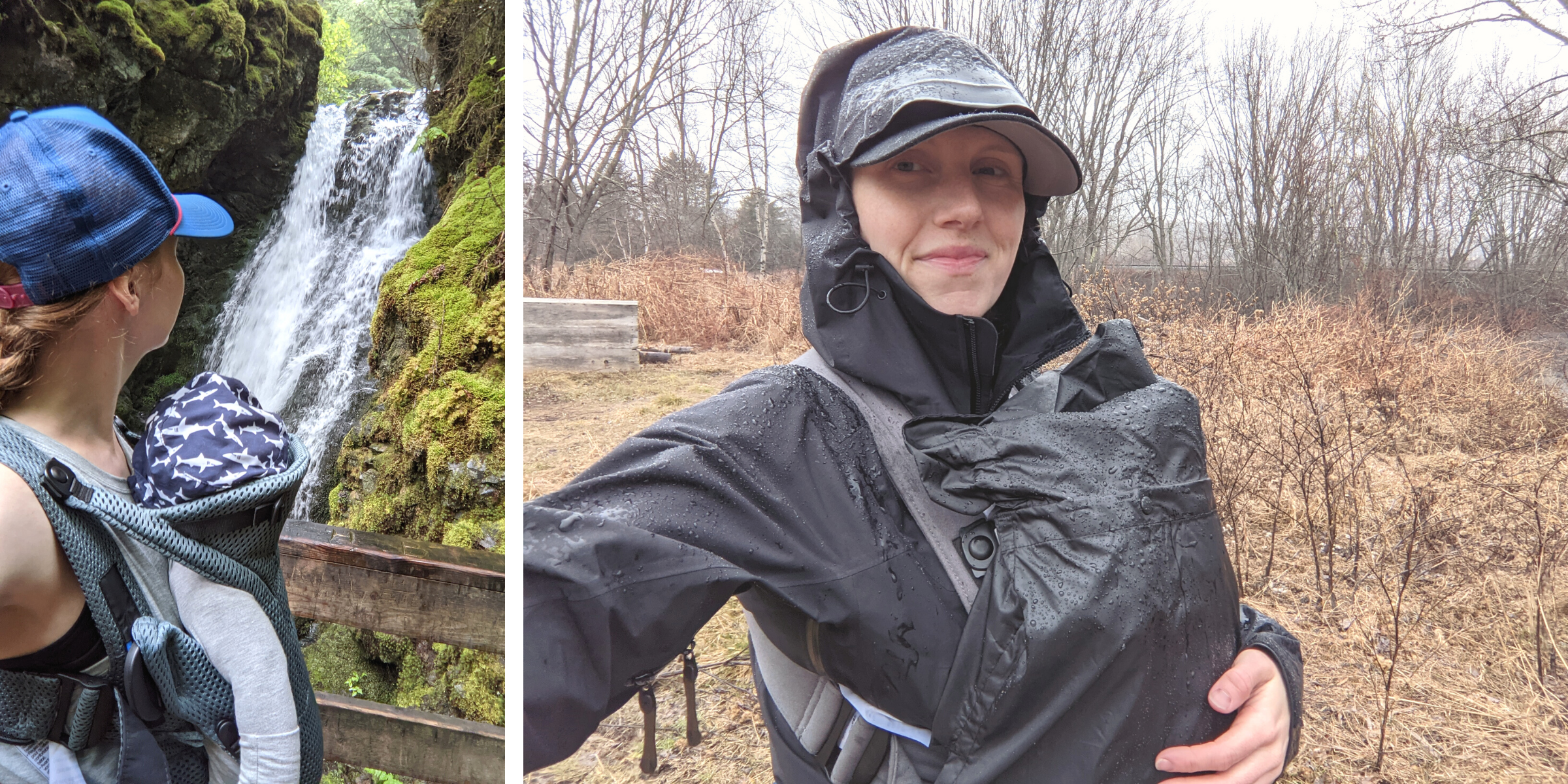 Whether it's sunny or rainy, the right gear and clothing makes things a little easier when getting outside with your baby.
ADJUST YOUR EXPECTATIONS
Whether you are hiking with a newborn or a toddler, they will dictate the flow of your hike. This does not mean you can't be ambitious with your adventures - but you do need to be ready, and okay, to call it quits if that's what is best for them. There are plenty of inspirational adventure families you can find on Instagram who are summiting mountains with their young kids - however that may not be your goal. Adventuring with tiny humans can also be a walk in your backyard or around your neighbourhood. Sometimes those experiences can take just as long, and be equally rewarding, as the "bigger" ones. Above all, adjust your expectations. Especially with little hikers, it's about the journey as opposed to the destination. This leads me to my next point.
MOVE SLOW AND TAKE BREAKS
Hiking with a newborn was easier *in some ways* as he was lighter and slept a lot more. As he grew, the carrier got heavier and I had to be a bit more strategic when I was hiking in an effort to line up with a nap. The extra weight naturally slowed me down anyway - but also, he wanted to stretch his legs more often and wasn't sleeping as long. You will also likely be changing a diaper on the trail so everything takes more time, and more patience. In order to keep everyone content on the trail, stopping for snacks or to nurse is key. When it comes to breastfeeding/chestfeeding on the trail, do what you are most comfortable with - whether that's utilizing a carrier, a cover or simply getting comfy on the mossy ground and a great view.
If you are anything like me, the idea of stopping a lot is not appealing. But I promise you - it is enjoyable. Witnessing your baby experience literally everything for the first time makes the slow and still moments absolutely beautiful and does wonders to calm a Type A personality.

THE CARRIER MATTERS
You do not need a hiking carrier to hike with a baby - but it helps. Personally, I had no idea how subjective carriers could be and went through many different types and sizes before I found some that worked for both my body and my [big] baby. For the first 6 months, I carried him on my front with a structured carrier, but once he was able to sit unsupported - we switched to the hiking carrier: the Osprey Poco. This carrier has been great for us on hikes! It has some decent storage and it can be adjusted to whoever is wearing it. My baby loves it as he has a great vantage point on the hikes and it has an awesome sunshade which is key. I love that I can keep him in it and set it down on the ground when I need a break - or the hike is done, and he can continue sleeping.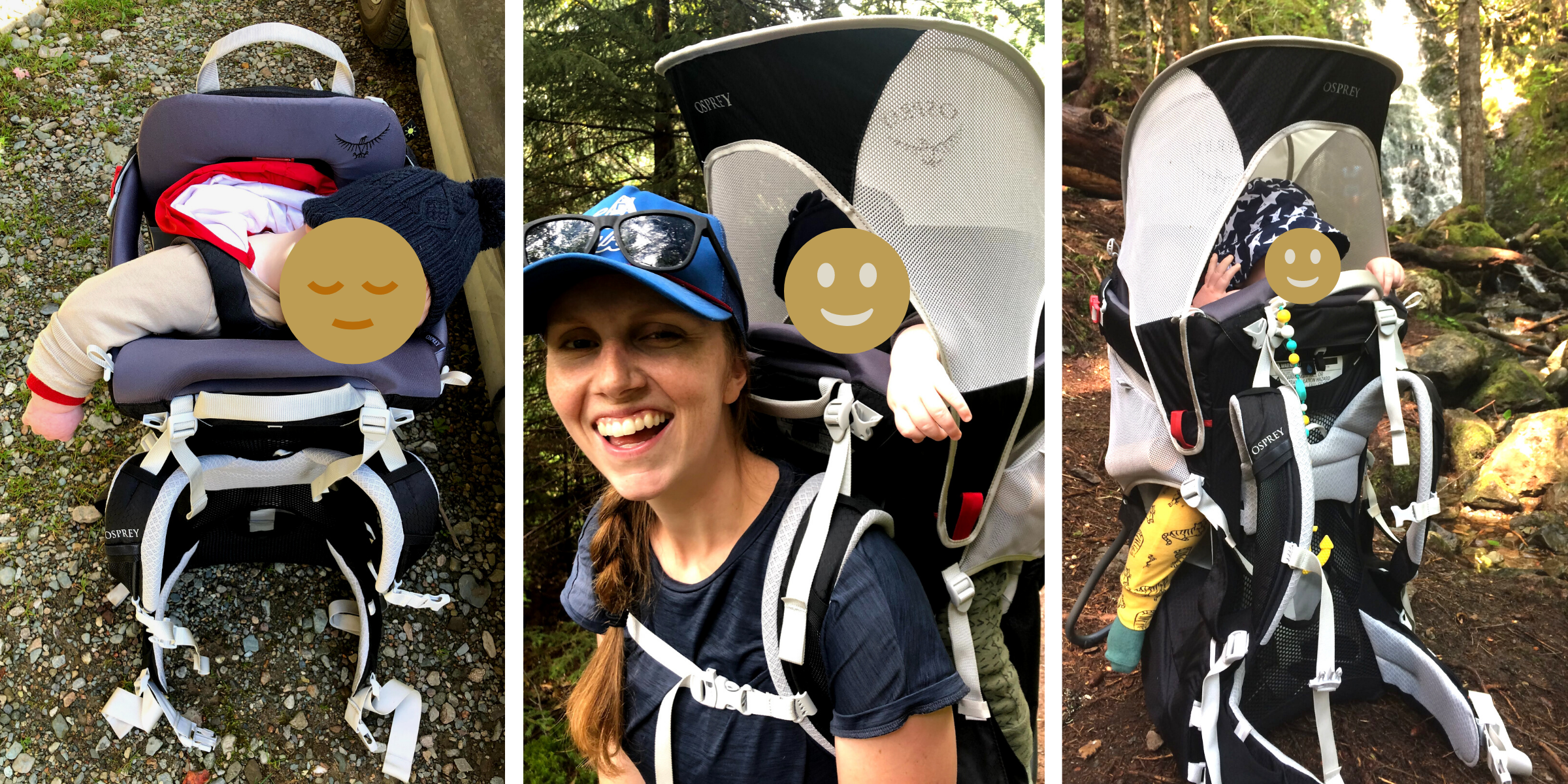 WHAT TO WEAR
Often people are concerned about babies being too cold. I've had the opposite experience where I need to ensure I don't overdress him as my baby runs hot. Along with his clothing and accessories, a carrier and your body is another insulating layer. Dressing him in the same types of layers that I am wearing is generally my best bet. If you can swing it, a merino wool base layer is great all year round both for temperature regulation and sun protection. Regardless of the material, this is how I dress him:
Base Layer (Thin/Light)
Mid Layer (Crewneck sweatshirt and pants - typically a fleece layer)
Outerwear (Weather Resistant - often a full rain suit in the spring or snowsuit in the winter)
Accessories: Buff, Hat, Mittens, Wool Socks and/or Boots that he can't kick off
In the summer, I try to dress him in UPF clothing when possible. If wearing your baby on the front, you can wear a large jacket or sweatshirt to put over you and your baby. Additionally, there are accessories available such as rain covers that attach to baby carriers. In my experience, they are great in light rain but don't withstand heavy rain.

The Osprey Poco has a sun shade which does wonders all year round to protect from the sun and redirect rain and snow.
BEFORE THE HIKE
I always plan to nurse at the trailhead. Between this and a diaper change, it typically take us 15-30 minutes longer to start our hike. When hiking with others, it's a good thing to mention so everyone understands the situation.
IN SUMMARY
There is a lot more I could say but my goal is not to overwhelm. As with anything, your experience will be unique to your child. Start small and try out different clothing and carrier set ups to find what works best for you. It can feel daunting but once you are outside, surrounded by trees, it will all make sense.
Happy Adventuring!
Have any questions? Reach out and we'd be happy to help!