Posted by Taryn on 2020 Mar 30th
In this post I am going to talk about what to wear out on the water for your paddling adventures. Paddling is a great way to get outside, get on the water and get some exercise.
Choosing the right gear adds to the enjoyment. Being cold and wet can ruin anyone's day so let's have a look at how to prepare to be both safe and comfortable.
THE PFD (Personal Flotation Device)
First and foremost, a PFD is the most important thing you'll wear and it must be worn at all times. A PFD is incredibly difficult to put on once you're in the water. There are several different types and there are several options to choose from in terms of features. All of this is covered in Choosing a PFD but for this post I'll leave you with a few key points.
First, be sure your PFD is approved for use in Canada. It will be stamped on the inside.
Second, your PFD should fit well which means it is comfortable and non-restrictive and will not pull up when the shoulders are lifted by another person. Sizing for adults goes by chest circumference but the sizes correlate with your T-shirt size in most cases. For children, the size is determined by weight.
Third, PFDs used for paddling differ from a life jacket in that a life jacket has a collar that will float an unconscious person face up. Although this makes the jacket safer, it's quite restrictive and uncomfortable to paddle in. It can also make it very difficult to see over your shoulder. Children's PFDs are typically collared therefore considered a life jacket.
For the remainder of this post I will discuss what to wear while paddling in terms of apparel. When choosing clothing for this type of activity you'll need to consider the weather, the destination and the water temperature. Weather conditions can change suddenly on the water so it is important to always bring extra clothing packed in a dry bag even when the weather is fair. I also recommend that dry clothing be left in the car. It's much more comfortable to drive home in dry, warm clothes.
YOUR CLOTHING MATTERS
Suitable apparel for paddling is often quite similar to other outdoor pursuits especially in terms of materials, layering, and fit.
Materials
Clothing should be made from wool or synthetic - never wear cotton as it pulls warmth from the body when wet and takes a long time to dry. Wool and synthetics move moisture well, dry quickly and maintain warmth when wet.
Layering
Layering allows the paddler the opportunity to regulate body temperature as weather conditions change or as body temperature rises with exertion. Paddlers need to think of the water temperature as well since there is always the possibility of a swim, whether it's intentional or not. This may mean a wetsuit or drysuit is necessary. The Bay of Fundy, for example, is very cold all year long which increases the need for insulation in the event of a wet exit. During the summer, a wetsuit would be a suitable option, however for winter paddling a drysuit is essential since both the water and outside temperature would need to be considered.
Fit
Apparel should also be close fitting bearing in mind that it must be comfortable under a PFD and possibly a spray skirt. Clothing must allow for movement, without restriction, and sun protection should also be a part of the equation. Paddling specific clothing, like rash guards, are close fitting, stretchy, typically offer UPF (Ultraviolet Protection Factor) protection and have flat seams to avoid chafing under a PFD. Any zippers or closures are strategically placed to avoid discomfort. Snaps and zippers also have to be thought of when choosing bottoms. Whether opting for shorts or pants, the placement of pocket snaps or zippers can make sitting on them quite uncomfortable. Zippers, buckles and snaps can also cause pressure points under a skirt. Metal closures can rust or corrode, especially in salt water situations, so plastic is the wiser choice.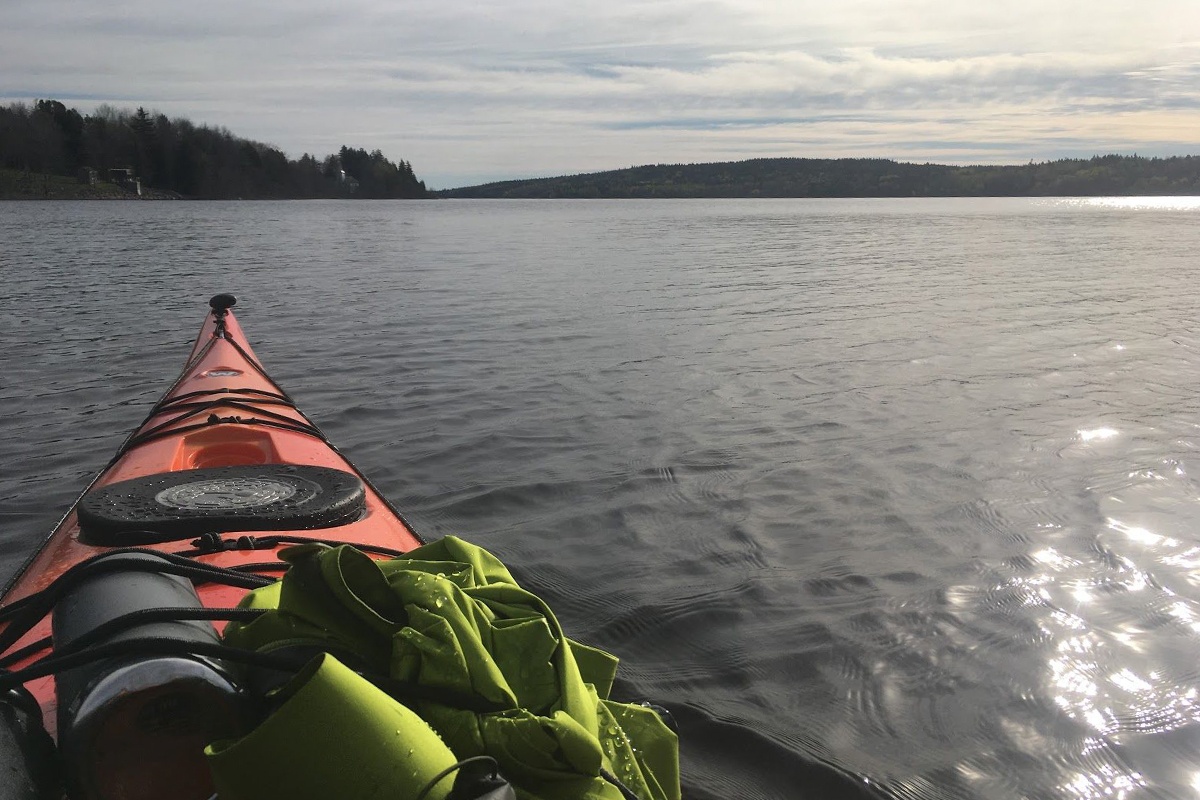 So let's consider what all that means in terms of putting your gear together for a day of paddling.
For mild conditions, I would start with a comfortable swim suit or non-cotton underwear and sports bra. Next layer would be a rash guard or wool base layer depending on air and water temperature. On bottom, I would choose quick dry shorts or pants without any snaps or zippers on the rear pockets. Depending on the weather, I would also throw on a fleece and/or shell jacket. Paddling specific shell jackets and pants have the added features of gaskets at the neck and wrists or ankles. They keep water that often drips down along the paddle from running up your arms. Neck gaskets or neoprene around the neckline are great for keeping driving rain out. These types of features certainly add comfort and ease of wear.
FOOTWEAR
In terms of footwear, neoprene booties are the best option under most circumstances since they are water ready, warm and have soles and toe protection suitable to wet, rocky terrain. Water sandals, such as Keen's, are also a great option. They are great for in and out of the water, they are incredibly versatile and they are comfortable both in the boat and on shore. Add wool socks to increase the warmth. Flip flops or any sandal that isn't secure on the foot should be avoided.
ACCESSORIES
A few other things to have on any paddling trip would include a wide brimmed hat to protect from sun and rain, sunglasses and floating retainer, and paddling gloves to help with blisters and sun protection. I would also toss an extra sweater and jacket into a drybag. If I were wearing shorts, then a pair of long pants would go into the bag as well.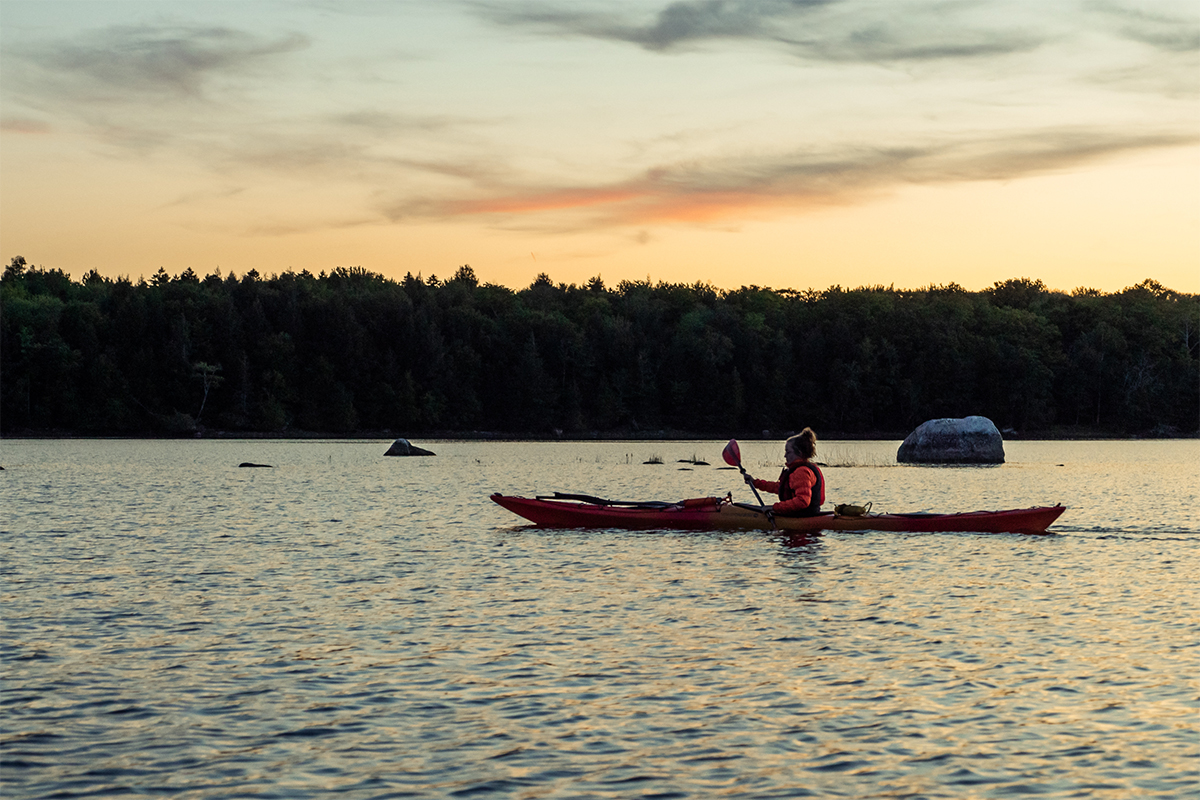 WETSUIT VS. DRYSUIT
Paddling gear becomes more technical when dealing with cold weather and water conditions.
Pros and Cons of a Wetsuit
Wetsuits come in different thicknesses and, depending on the thickness, can be a great choice when paddling in cold water. They are worn next to skin and maintain warmth by using your own body heat to warm the water that gets trapped next to the body.
That being said, two things to consider are:
Firstly, that wetsuits do not breathe all that well so if the air temperature is warm they can be quite hot to wear.
Secondly, you will still have the initial shock of the water in the event of a capsize since it will take a little time for your body to heat the wetsuit.
Pros and Cons of a Drysuit
Another option to look at would be a drysuit. Drysuits are great for inclement weather or cold water situations. They have gaskets at the neck and wrists as well as attached booties that totally seal out water. Any zippers are completely waterproof. Most are made with Gortex or other similar material and work similarly to a regular shell making layering underneath an ideal way to dress to suit the conditions. The only downfall is that they are quite expensive and the gaskets do require replacing from time to time.
IN SUMMARY
When it comes to paddling apparel there are lots of options out there offering many features that are specific to the needs of this kind of sport. While it's important to choose clothing that will keep you warm and dry, it certainly doesn't mean you need to break the bank to get started. The guidelines above will help get you get out on the water safely and then, like most other outdoor activities, you can build your gear collection over time.
Happy Paddling!!!